Seabourn Odyssey – Eine Luxuskreuzfahrt im Mittelmeer
This Post Has Been Viewed 26,154 Times
Eine atemberaubende Luxuskreuzfahrt im Mittelmeer mit der "Seabourn Odyssey"
Die Seabourn Odyssey ist das erste einer neuen Reihe erstklassiger Seabourn-Schiffe, auf dem 450 Gäste in 225 Luxussuiten residieren können. Mit der Kapazität und der Größe auch insgesamt deutlich kleiner als andere Kreuzfahrtschiffe – eher eine große Yacht!
Es war für mich die erste Kreuzfahrt und daher war mir dieses vorerst nicht so wichtig. Vielmehr stellten sich hier Fragen zu der Kabine, zu dem Ablauf , dem Leben an Board und ganz besonders zur Seekrankheit. Würde ich mich hier bei sieben Tagen auf See überhaupt wohl fühlen? Was ich erlebt habe und wie das Leben auf dem Schiff meine Meinung zu Kreuzfahrten geprägt hat, könnt ihr jetzt hier lesen.
Bevor ihr den Bericht lesen könnt, empfehle ich euch das kurze Video mit einigen Impressionen:
(bitte unter Einstellugen unten rechts in HD Qualität wechseln und die Musik laut stellen)
Check – in & Anreise
Die Reise beginnt in Athen und zwar genau am Hafen von Piraeus. Die Terminals am Hafen sind ähnlich wie am Flughafen aufgeteilt, d.h. bei der Anreise mit dem Taxi bring euch der Fahrer direkt zum Terminal von "Seabourn". Hier werden auch schon sofort euere Koffer entgegengenommen und durch das Personal eingecheckt. Woher wissen die Mitarbeiter welcher Koffer in welche Kabine soll ? Vor der Abreise bekommt ihr persönliche Kofferaufkleber (ähnlich wie am Flughafen) mit den Details und einem Barcode, die ihr selbst anbringen könnt. Der Weg führt euch dann weiter zum Schalter, wo ihr eure Boardkarte und alle notwendigen Informationen bekommt. Nach dem Security Check geht es dann endlich an Board.  Am Eingang der Seabourn befindet sich ein kleiner Pavilion mit einem roten Teppich und Mitarbeiter, die auf  euch warten und euch herzlich begrüßen.  Der Check-In dauerte insgesamt maximal 10 Minuten und ich war endlich bereit meine Kabine und das Schiff zu besichtigen.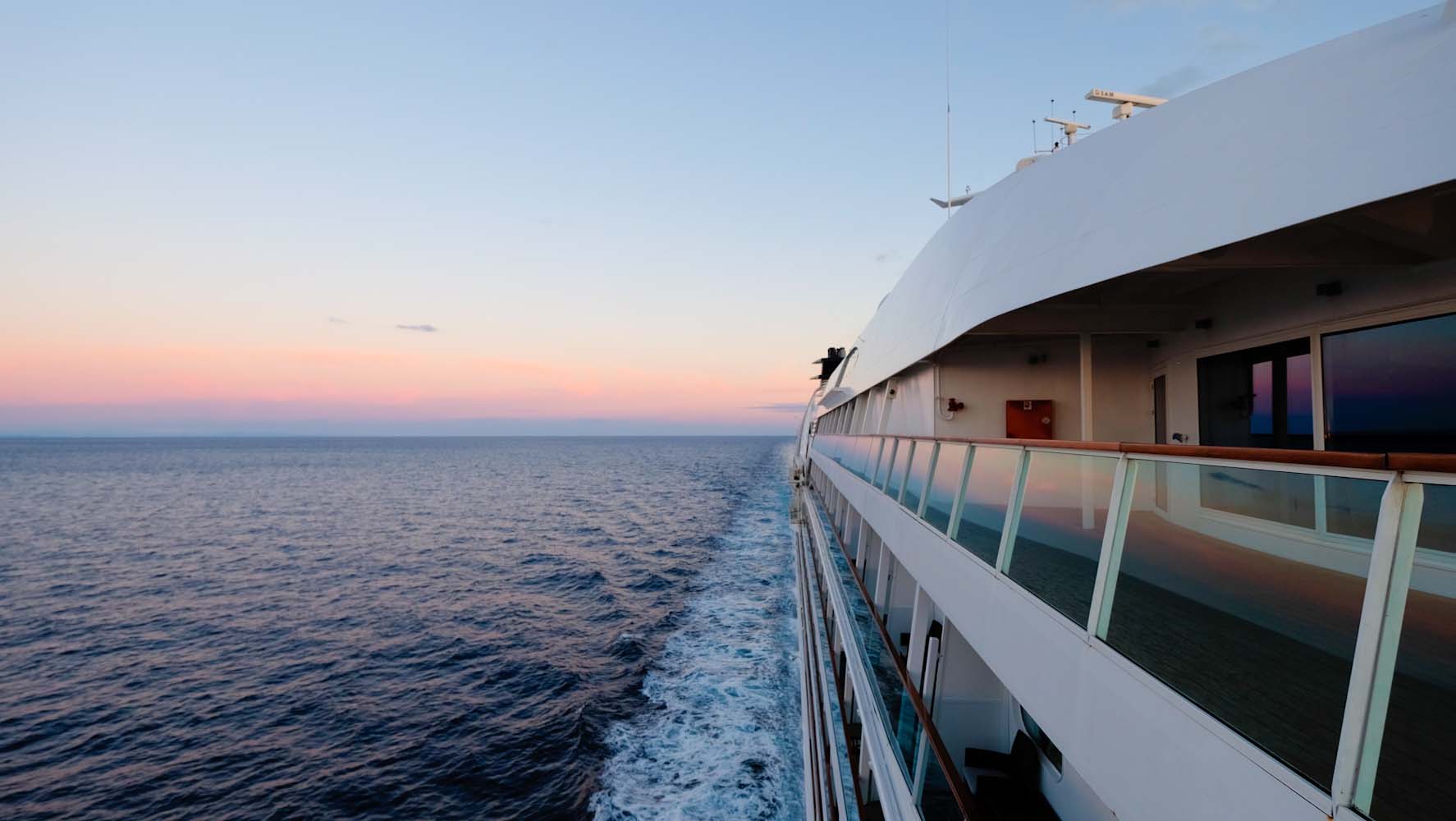 Die Logistik ist hier bewundernswert und perfekt organisiert. Alle Gäste dürfen ihre Kabinen zeitlich gegen 14 Uhr betreten, hier muss keiner länger als nötig warten und es wird keiner bevorzugt. Da ich bereits gegen 13 Uhr an Board war, konnte ich gemütlich einen Snack an Deck nehmen.  Es gibt hier keine übliche Rezeption wie man das in einem Hotel kennt.  Um 14 Uhr gibt es eine offizielle Durchsage, so dass jeder Gast an Board (egal wo er sich befindet) die Information rechtzeitig bekommt. Es geht los!
Die Suiten & dein neues zu Hause
Die Decks sind groß, so dass ich mich beim ersten Mal etwas verlaufen habe , obwohl an jeder Etage ein Deckplan mit allen Informationen ausgehängt ist. Wahrscheinlich war das einfach auch meine Aufregung und Neugier, denn ich konnte nicht schnell genug in meine Kabine eilen. Es gibt insgesamt 229 Suiten an Board und 90% davon haben eine private Veranda. Meine Kabine wirkt nicht nur  durch die hellen und warmen Farben sehr geräumig, sonder sie ist es tatsächlich auch.  Meine Veranda Suite mit 28qm Innenfläche und 6qm Verandafläche ist fast wie ein kleines Apartment. Die Kabine hat im Badezimmer nicht nur eine Dusche, sondern auch eine Badewanne findet hier Platz und zudem ein begehbarer Kleiderschrank. Bevor ich alles inspizieren kann klingelt es an der Tür und meine persönliche Stewardess begrüßt mich mit einer Obstplatte und Champagner.
Zu meiner Kabine gehören nicht nur die feinsten Seifen von L'Occitane oder Badeprodukte von Molton Brown, sondern auch ein privater 24 Stunden Service.  Ich darf mir zu der bestehenden Minibar noch zwei weitere Alkoholische Getränke meiner Wahl für die Reise kostenfrei bestellten.  Die Auswahl ist groß und selbst Getränke, die nicht auf der Karte stehen, werden nach Möglichkeit organisiert. Ich bin einfach nur überwältig und bestaune mit einem Glas Champagner erstmal die Veranda.
Die Kabine macht für mich einen sehr gemütlichen und luxuriösen Eindruck und ich bekomme mein Grinsen einfach nicht aus dem Gesicht. Für mich kann die Reise jetzt beginnen, denn ich kann es kaum abwarten, was die nächsten Tage bringen und wie ich die erste Nacht an Board verbringen werde.
Das Schiff & das Leben an Board
Für den Überblick an Board habt ihr in euere Kabine alle notwendigen Informationen in einer Mappe – einige Informationen, wir z.B. die Wettervorhersage, Tagesprogramm, Besonderheiten an Board und Details zum nächsten Hafen werden täglich aktualisiert. Ihr habt zudem einen interaktiven Fernseher, wo ihr Auskünfte zum Hafen, Tagesprogramm, Informationen zu den Ausflügen und sogar eine Live View der Schiffskamera jederzeit nutzen könnt. Bei mir war fast dauerhaft die Live Ansicht eingeschaltet, damit ich noch zusätzlich die Sicht des Kapitäns geniessen konnte.  Ich mache mich nun auf Besichtigungstour, denn insgesamt gibt es hier 10 Decks zu erkunden.
Die verschiedenen Decks könnt ihr entweder über die Treppe erreichen oder auch mittels der Fahrstühle an Board.  Meine Suite befindet sich an Deck 7 und so geht es in wenigen Schritten zum Hauptdeck 8 & 9. Hier befindet sich der große Hauptpool mit zwei Whirpools, einer Bar und einer fantastischen Aussicht über das ganze Schiff. Es stehen genügend Liegen und Handtücher um den Pool herum und sobald ihr euren Platz gefunden habt, werdet ihr auch sofort bedient. Ihr könnt hier von kleinen Kaviar Häppchen bis zu einem richtigen Mittagessen alles kostenfrei bestellen. Ich sehe viele Gäste gemütlich in der Sonne mit einem Glas Champagner liegen und kann es immer noch nicht richtig glauben, dass ich auf einem Kreuzfahrtschiff bin.
Ihr werdet auf den Fotos wenig Gäste sehen, da es hier an fast jedem Deck eine perfekte Ecke zum Entspannen gibt und so teilen sich die Gäste gut auf und es gibt nirgends Gedränge oder Platzmangel.  An Deck 7 findet ihr eine Art "Rezeption" – hier stehen euch die Mitarbeiter in einem separaten Bereich jederzeit zur Verfügung und kümmern sich um alle Belange der Gäste. Ich habe hier an Deck 7 auch jeden Tag an der Bar meinen leckeren Kaffee und ein Stück Kuchen gegessen. Mag vielleicht altmodisch klingen, aber die Auswahl an Kaffee, Snacks und Kuchen ist hervorragend.
An Deck 5 gibt es einen weiteren Pool und zwei Whirlpools, die gelegentlich meinen Arbeitsplatz ersetz haben, da man hier gemütlich die Sicht auf das freie Meer geniessen kann. Selbstverständlich gibt es auch hier einen regulären Service, den ihr ebenfalls kostenfrei nutzen könnt. Es ist teilweise schwer zu beschreiben, wie sich das anfühlt, wenn das Schiff fährt und nur die Wellen zu sehen sind und der Ausblick durch nichts gestört wird.
Jedes Deck hat etwas besonderes an sich und doch haben sie alle etwas gemeinsam: eine atemberaubende Aussicht und jede Menge Platz zum Entspannen! Es ist gelegentlich schwer sich zu entscheiden, wo man beim Ablegen die Aussicht geniessen sollte, oder wenn die Sonne untergeht und nichts als das Weite des Meeres zu sehen ist. In den ersten Tagen bin ich tatsächlich alle 10 Minuten von einem Deck zum anderen gelaufen. Es war diese Euphorie die mich jede Sekunde an Board begleitete – Tag und Nacht! Nach etwa 3 Tagen hatte ich mich etwas beruhigt und Deck 10 mit der Aussicht von der "Observation Bar" wurde zu meinem festen Platz. Von hier aus beobachtete ich fasziniert, wenn das Schiff ablegte und sich langsam in Richtung Meer bewegte, oder wenn die Sonne am Horizont unterging und ich mich schon etwas wie auf der Titanic (nur sicher) fühlte. Das Gefühl ich wäre auf der Titanic kam tatsächlich häufiger vor, denn alles war so imposant und luxuriös.
Das letzte Foto (rechts) zeigt noch einen weiteren Whirlpool an Deck 6, welcher nicht nur einen erholungsfaktor bietet, sondern ebenfalls einen perfekten Aussichtspunkt zu jeder Zeit. Viele werden vielleicht hier vermuten, dass besonders diese Plätze von Gästen überfüllt sind man kaum eine Chance hat, selbst diesen zu geniessen. Wie schon oben erwähnt, bleibt der Andrang an Gästen an den Decks aus.
Marina Day & Sportliche Aktivitäten
Das Leben an Board besteht natürlich aus weit mehr als nur an Deck stehen und das Meer beobachten. Jeden Tag gibt es sportliche Aktivitäten im Fitnessraum, tolle Abendveranstaltungen und zu meiner Freude auch Wassersport. Das Deck 2 verwandelt sich in eine Wassersport Oase, denn im hinteren Bereich stehen den Gästen zahlreiche Aktivitäten zur Verfügung. In einem Zeitfenster von ca. 4 Stunden kann man u.a. rasant mit dem Banana-Boot sich Vergnügen oder sich einfach in einem bequemen großen "Sofa" von einem Speedboot ziehen lassen. Vorab bekommt jeder eine Sicherheitseinweisung und eine Schwimmweste, so dass ihr euch ohne Sorge ins Wasser begeben könnt. Damit es auch hier keine lange Wartezeiten gibt, wird einen Tag vorher eine Anmeldeliste bereitgestellt.
Die Aktivitäten sind so eingeplant, dass den Passagieren immer noch genug Zeit bleibt, um auch die Landgänge und mögliche Ausflüge ohne Hektik zu geniessen. Das Thema Geniessen steht hier an  Board der Seabourn sehr groß geschrieben, wenn man sich die kulinarische Auswahl anschaut.
Restaurants & kulinarische Highlights
Die Seabourn bietet eine sehr gute Auswahl an kulinarischen Highlights an Board. Es gibt insgesamt drei Hauptrestaurants in denen spektakuläre Menüs gezaubert werden (The Restaurant an Deck 4, The Restaurant 2 und das Colonnade an Deck 8). Mit dem Chefkoch Thomas Keller (Gourmet Koch der Spitzenklasse) können die Gäste unvergessliche Themenabende in den ausgewählten Restaurants geniessen und noch lange von dem Essen schwärmen. Die kreierten Menüs sind sagenhaft und einzigartig in der Zusammenstellung. Schon beim Lesen der Menükarte läuft einem wirklich das Wasser im Munde zusammen. Die Menüs werden durch ausgewählte Weine abgerundet und so ist es auch kein Wunder, das gelegentlich eine Speise nachbestellt wird.
Jedes Menü besteht aus einer leichten Vorspeise, einem Hauptgang und einer süssen Nachspeise. Für mich gab es hier oftmals die Steak Variante, die zart und saftig serviert wurde.    Eine Reservierung in den Restaurants ist jedoch immer empfehlenswert. Die Seabourn bietet den Gästen natürlich auch den In-Room-Service mit ausgewählten Gerichten zur Verfügung.
In Erinnerung bleiben mir besonders die Ravioli mit Trüffelcreme. (diese Vorspeise hatte ich in der Tat nachbestellt und ich kann mich immer noch an den Geschmack im Mund erinnern, wenn ich mir das Foto anschaue.
Jeder Abend ist auf der Seabourn ein Highlight und mit der einzigartigen Aussicht im Restaurant schmeckt das Essen noch besser. Wer sich für die Kreuzfahrt mit der Seabourn entscheidet, sollte sich ein Menü von Thomas Keller nicht entgehen lassen.
Room Service & tägliche Annehmlichkeiten
Ich bin kein großer Fan von Room Service, da man oftmals nur eine "abgespeckte" Variante der Köstlichkeiten serviert bekommt – ausser vielleicht beim Frühstück. Auf der Seabourn ist das definitiv anders. Jedes Gericht und jedes Getränk (welches an Schiff vorhanden ist) kann von dem Gast bestellt werden und wird ohne lange Wartezeiten  in der Suite serviert. Jeden Abend liegt im Zimmer bereits die Frühstückskarte bereit, so dass ich fast jeden Morgen alle Köstlichkeiten in meiner Suite oder auf der Veranda geniessen konnte. Jeden Tag stehen frische Blumen und eine köstliche Obstplatte auf meinem Tisch und die Stewardess fragt stets freundlich nach, ob ich noch etwas benötige.
Für ausführliche Informationen zu den jeweiligen Häfen stehen dem Gast nicht nur der interaktive Fernseher oder die Informationskarten im Zimmer, sondern auch die Mitarbeiter im Square (Eine Art Empfangsraum) zur Verfügung. Ihr könnt euch bereits im Zimmer über verschiedene Ausflüge informieren und diese auch direkt hier buchen, oder einfach mit den Seabourn Mitarbeitern direkt besprechen. Falls ihr also vor der Abreise noch keine Entscheidung zu den Landausflügen getroffen habt, so ist an Board noch genügen Zeit dafür.
Ausflüge & Landgang
Wie funktioniert es aber wenn ca. 400 Gäste an Land wollen ? Die genauen Ankunfts- und Abfahrtzeiten findet ihr im Zimmer oder beim Ausgang über Deck 3. Es stehen hier immer mehrere Tenderboote (die Rettungsboote) bereit, die tatsächlich sehr viele Gäste auf ein Mal an Land bringen. Bei Verlassen des Schiffes wird immer eure persönliche Karte gescannt und je nach Hafen dauert die Fahrt mit dem Boot ca. 5 Minuten.  Die Boote sind dauerhaft im Einsatz und während die einen Gäste an Land fahren, werden die anderen bereits an Board gebracht. An jedem Hafen steht auch der Seabourn Pavillon mit genauen Informationen zu den Abfahrtszeiten. So einfach habe ich mir das wirklich nicht vorgestellt.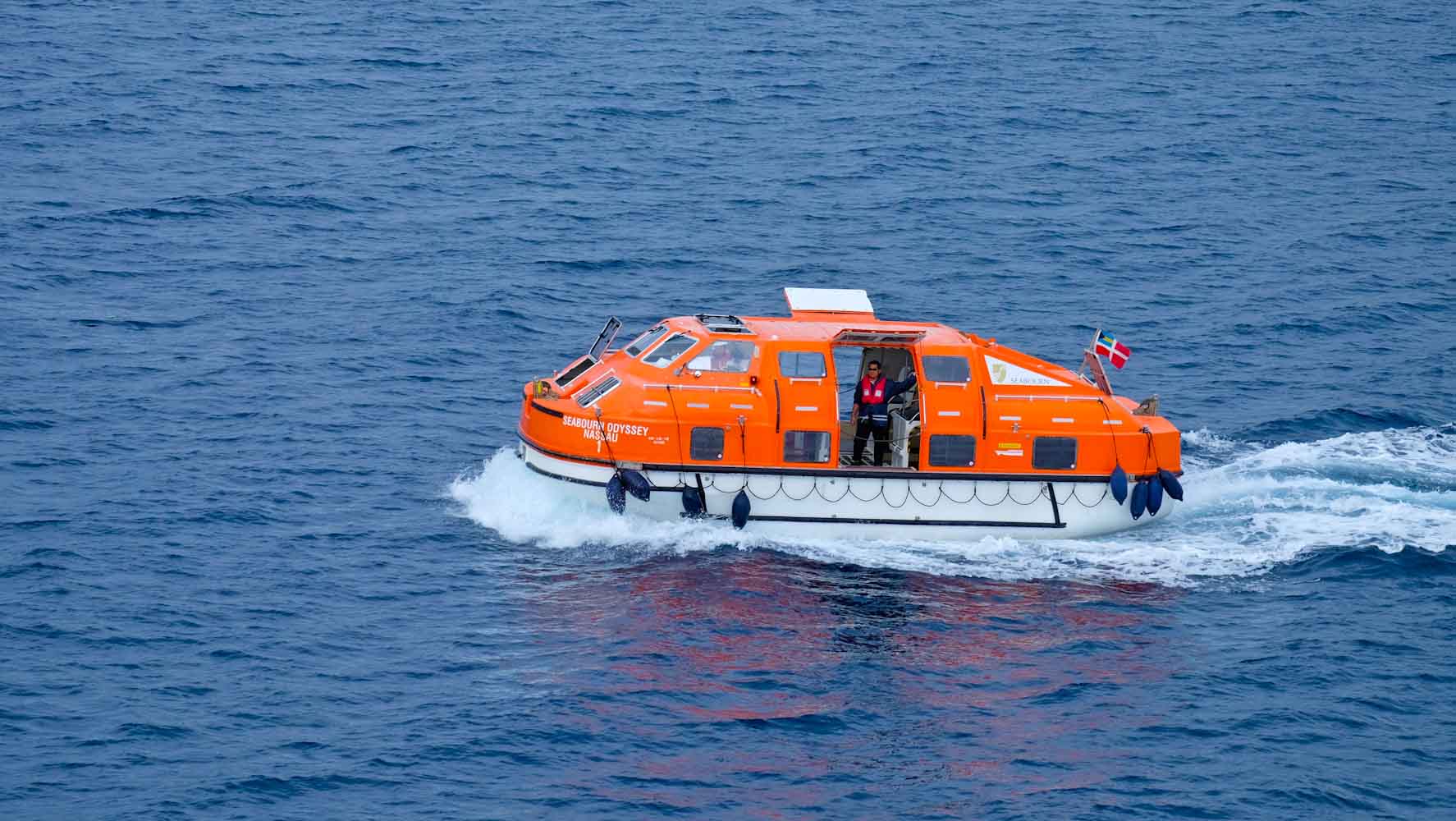 Die Route im Mittelmeer mit der Seabourn Odyssey
Ich habe für einige Häfen bereits den Ausflug vor der Reise gebucht und für andere einfach selbst die Stadt erkundet. Ich empfehle schon den einen oder anderen Ausflug zu buchen, da man hier sehr gut organisierte kleine Gruppen hat und nicht ganz verloren in einer fremden Stadt herumirrt.
Monemvasia , Griechenland
Der erste Stop der Mittelmeer-Kreuzfahrt ist die Stadt Monemvasia in Griechenland. Ein kleiner und malerisches Dorf mit vielen bunten Gassen und einheimischen Restaurants und Souvenirgeschäften.  Ausser spannender historischen Geschichten bietet die Stadt viele schöne Plätze und Aussichtspunkte, die man besteigen kann. Bis 17 Uhr haben die Gäste zeit die Stadt zu erkunden, bevor das Schiff wieder pünktlich zum nächsten Hafen ablegt.
Katakolon, Griechenland
Am nächsten Tag gegen 7 Uhr morgen erreichen wir Katakolon und bereits der Ausblick von der Veranda verspricht einen wunderschönen Tag. Katakolon ist eine sehr bunte Stadt und das Leben spielt sich hier direkt am Hafen ab. Zahlreiche Restaurants und Geschäfte aneinandergereiht mit einem Blick auf dem Hafen laden hier zum gemütlichen Mittagessen in griechischer Atmosphäre ein.
Lefkada, Griechenland
Heute ist Badetag in Lefkada angesagt. Das Wetter lädt förmlich zum Schwimmen ein und direkt am Hafen befindet sich so gleich der erste kleine sauberen Stand mit einer Taverne.  Bei dem klaren Wasser und den Temperaturen überlege ich nicht zwei Mal und geniesse daher einige Stunden direkt am Strand.  In der Ferne sehe ich die Seabourn und freue mich auch wieder an Board zu gehen. Es ist  alls würde man nach Hause kommen.
Dubrovnik, Kroatien
Von Griechenlands traumhaften Küsten und malerischen Städtchen geht es in die magische Stadt Dubrovnik.  Nicht nut für die Fans von Games of Thrones wird dieser Landausflug ein Highlight. Ich muss zugeben, dass ich ebenfalls ein Fans dieser Serie bin und bereits mit dem ersten Schritt an Land schon die berühmten Gassen und Burgtürme erkenne. Ich bin definitiv nicht die Einzige, die sich für diese Serie interessiert, denn in der Stadt findet man zahlreiche Touren und Souvenirgeschäfte.
Ich erkunde die Stadt alleine und nutze die Zeit um eine komplette Wanderung auf den Mauern der Burg zu unternehmen.  Der Eintritt kostet hier ca. 10€ und beginnt im Zemtrum der Stadt. Über viele Treppen geht es hoch hinaus auf die Mauern, die von jeder Seite eine atemberaubende Aussicht auf fie koste und die Stadt bieten.  Diese Wanderungen dauert ca. 1-2 Stunde und ist besetzt einen in eine andere Zeit.
Primosten, Kroatien
Dieses kleine Örtchen sieht schon von Weitem malerisch aus. Viele kleine weisse Häuschen prägen hier die Insel in Kroatien und entlang der Küste kann man einen erholsamen Spaziergang machen.
Korfu, Griechenland
Eins der bekannteren Ziele ist Korfu und so bin ich auch hier sehr gespannt was mich hier erwarten wird. Vom Hafen gibt es einen Shuttle direkt in das Zentrum, welches nur wenige Fahrtminuten entfernt ist.  Die Stadt ist groß und lebt im inneren. Viele bunte Gassen und nochmehr Geschäfte , die einen längeren Aufenthalt versprechen. An jeder Ecke bekommt ihr Griechische Leckereien und natürlich jede Menge Olivenöl.  Ich laufe gemütlich an den Geschäften vorbei und nehme die ersten Souvenirs mit.  Nach knapp zwei Stunden geht es entlang der Küste an vielen Tavernen und einer fantastischen Aussicht  zurück zum Hafen. Korfu ist sehr groß und so reicht die Zeit nur für einen kleinen Einblick, der mir jedoch ausreicht um zu wissen, dass ich hier nochmal wiederkommen möchte.
Als das Schiff gegen 18 hr ablegt wird mit leider bewusst, dass dieses der vorletzte Tag der Kreuzfahrt ist. So sehr ich mich zu Beginn freute wieder nach Venedig zu kommen, so schwer fiel es mir jetzt an diesen Tag zu denken.
Venedig, Italien
Das Schiff legt am letzten Hafen in Venedig und der Check Out verläuft ähnlich dem Check in. Die Koffer werden vom Personal abgeholt und können dann direkt am Termin im Hafen wieder entgegen genommen werden. Venedig ist eine ganz besondere Stadt, die einen in ihren Bann zieht. Zahlreiche Gassen und Brücken, die scheinbar alle gleich sind und man immer das Gefühlt hat, als wäre man schon mehrmals an dieser Stelle vorbeigelaufen versprühen diese Magie. Vielleicht sind es auch die Venezianischer Masken, die bunten Häuser oder die vielen Gondeln, die Venedig so geheimnisvoll und interessant machen ?
Ich kann es euch nicht wirklich beantworten, denn ich bin jetzt schon das dritte Mal hier und es ist immer wieder faszinierend sich in den kleinen engen Gassen zu verlaufen und trotzdem jedes Mal einen Ausblick wie aus dem Bilderbuch zu haben.
FAZIT- Was ist denn jetzt so wirklich besonders an einer Kreuzfahrt ?
"Eine Kreuzfahrt ist etwas ganz Besonderes und einfach toll" – das habe ich bisher auch immer gehört, aber irgendwie konnte mir keiner richtig beantworten, was das Besondere ist ?
Die Reise mit der Seabourn war meine erste Kreuzfahrt und alle Ängste und Sorgen ( werde ich Seekrank, wie ist es nachts auf See, komme ich rechtzeitig an Land usw.), die ich zu Beginn hatte waren mit dem ersten Schritt an Board vergessen. Die Seabourn ist deutlich keiner als andere Schiffe und wirkt schon optisch eher als eine große Yacht. Im Reisepreis ist alles vorhandene an Board inklusive ( Dazu zählen alle Getränke und Speisen 24 Stunden, Wellnessanwendungen und Ausflüge werden extra berechnet)
Was ist nun aber so besonders ??? Ich versuche es schlicht und einfach zu beschreiben :
Es ist ein sonderbares Gefühl, wenn man in seiner Suite ist und das Meer beobachten kann und sich freut, wenn das Schiff endlich ablegt. Es ist eine Freude, wenn man morgens aufwacht und wieder ein neues Ziel erreicht hat und voller Spannung nach draussen guckt welche Sicht sich einem bietet. An Land angekommen kann man wieder neues Erkunden und ist frei. Der Blick auf das Schiff bei der Rückkehr lässt wieder dieses Glücksgefühl hochkommen, dass man bald wieder auf See ist und oben an Deck den Wind spürt und die Wellen hört. Das Beobachten ist tatsächlich sehr faszinierend. Der Weg ins Bett war für mich ebenfalls voller Freude, da ich immer die Tür von der Veranda offen gelassen habe und nachts noch etwas von dem Rauschen des Meeres zu hören – zusammen mit der sanften Bewegung des Schiffes träumte ich teil und fest von dem nächsten Ziel.
Die kulinarischen Highlights und das luxuriöse aber gemütliche und freundliche Ambiente versprühen zusätzlich das besondere Wohlbefinden an Board. Ich werde es hier nicht auf den Punkt bringen können, aber vielleicht könnt ihr im Ansatz erahnen, wenn ihr euch die Fotos anschaut welche Wirkung und Ausstrahlung dieses Schiff auf einen hat!
ICH BIN OFFIZIELL EIN RIESEN GROßER KREUZFAHRT FAN GEWORDEN !
Für mich war es die erste von vielen weiteren Kreuzfahrten und so bedanke ich mich von ganzem Herzen bei dem ganzen Team
Special Thanks to Brian & Maja  for this extraordinary and magical Experience in my Life!
Alle weiteren Ziele der Seabourn gibt es hier  :
Fotografin & Content Creator
Ich bin Sylvia und seit über 10 Jahren bei Instagram aktiv und seit 8 Jahren auch als Reiseblogger unterwegs. Meine Leidenschaft is die Fotografie, denn ein Bild sagt definitiv mehr aus als 1000 Worte. Ich kann hier viel schreiben und erzählen, aber die Bilder halten die wesentlichen Momente so fest, wie ich sie erlebt habe.